Don't Throw it Away (DTiA)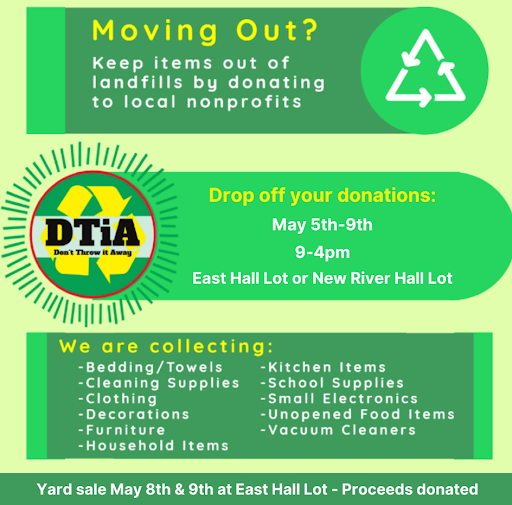 Don't Throw it Away is right around the corner! This is a collaborative event between Community-Engaged Leadership, Office of Sustainability, and University Housing. This event collects gently used, working items from students moving out, to donate to local community nonprofit partners and reduce the landfill waste produced during the end-of-year move out.
This year we will be collecting items at the East Hall Lot and the New River Hall Lot between May 5th-9th from 9-4pm. We will also be hosting a new pop-up yard sale on May 8th & 9th at the East Hall Lot location. This yard sale will sell any remaining items back to the App State community to help raise funds for a local community partner focused on environmental justice.
Three ways you can support this year's Don't Throw it Away program:
Help raise awareness of the event by telling your students about drop off locations and times
Volunteer some of your time to help make this event possible
Stop by East Hall lot on May 8th & 9th to buy some items from our yard sale and help us raise funds for our community partner
Students can drive or walk their items to our two drop-off locations. We accept nearly everything as long as it works, is clean, and only gently used. This includes furniture, microwaves, mini fridges, cutlery, school supplies, CLEAN bedding, unopened food, and more!
For more information or questions email maycm1@appstate.edu.