Sustainability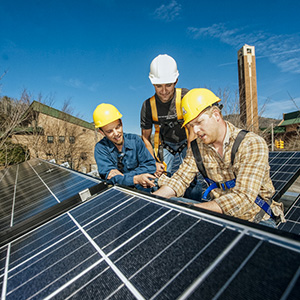 Appalachian has a decades-long commitment to sustainability, offering multiple degree programs and engaging our community through innovative initiatives. We honor this history, and boldly move forward, inspired by our unique mountain setting and with a genuine respect for the natural environment. We recognize sustainability is a journey, and "sustain Appalachian" is our commitment to advance our knowledge, to demonstrate innovative practices, and to lead by example.
The Statement of Sustainability
Sustainability at Appalachian State University is not a trend, it is a tradition. We are active stewards of our State's interconnected financial, cultural and natural resources. Through engaged scholarship, we balance critical, creative and global thinking in a living laboratory, transforming theory into practice and fostering responsible citizenship.
Student Affairs Role in Sustainability
In 2007, Appalachian State University mandated that all new buildings meet a minimum of LEED Silver criteria.
LEED Certification
Leadership in Energy & Environmental Design (LEED) is an internationally recognized green building certification system. Developed by the U.S. Green Building Council (USGBC) (opens in a new tab) in March 2000, LEED provides building owners and operators with a framework for identifying and implementing practical and measurable green building design, construction, operations, and maintenance solutions. LEED promotes sustainable building and development practices through a suite of rating systems that recognize and implement strategies for better environmental and health performance. The LEED rating systems are developed through an open, consensus-based process led by LEED committees made up of diverse groups of volunteers representing a cross-section of the building and construction industry.
LEED projects within Student Affairs
Frank Hall Renovation (2010)- LEED Gold Certified (1st LEED project)
Mountaineer Residence Hall (2012)- LEED Gold Certified
Plemmons Student Union Addition (2013) - LEED Gold Certified
Cone Hall Renovation (2013) - LEED Gold Certified
Winkler Hall - 96% of all demolition building material was recycled (2013)
Summit Resident Hall - (2015) LEED Silver Certified
Belk Residence Hall Renovation (2016) - LEED Silver Certified
Appalachian Hall (2017) - LEED Silver Certified
Renewable Energy Initiative (REI)
Over the past decade, Appalachian State University has amassed the largest and most diverse portfolio of Renewable Energy Facilities in the state of North Carolina. These systems are producing amazing educational opportunities, reasonable amounts of reliable and useable power for our community* and serve as perhaps the most outwardly visible expression of Appalachian State University's commitment to environmental sustainability.
The Renewable Energy Initiative (REI) is a committee made up of students, faculty and staff advisors responsible for allocating money towards the implementation of renewable energy across campus. The allocated money comes from a self imposed student fee of $5 per student per semester. In 2004, the student body approved and voted to tax themselves to pay for renewable energy projects on campus. In 2007, students again voted in favor of the tax with a 92% approval rating.
The mission of REI is to reduce the environmental impact of Appalachian State University by replacing the university's existing sources of energy with cleaner forms of renewable energy technology on campus and serve as a resource for students and faculty by identifying and investing in the most appropriate energy projects.
Renewable Energy Projects within Student Affairs
University Housing
With 20 buildings encompassing over 5500 students and a combined professional and student staff of over 250 employees, University Housing chooses to promote environmental consciousness and to educate students and staff alike. With a strong commitment to sustainability through activities and initiatives, University Housing works every day to bring positive change to the campus. In 2016 University Housing partnered with The Office of Sustainability for peer-to-peer sustainability education programs.
Renovations and new campus construction projects strive to meet U.S. Green Building Council LEED Certification standards

(opens in a new tab)

.
All residence halls utilize water-saving showers, faucets, and toilets as well as energy-saving light fixtures.
All appliances in our residence halls are EPA Energy Star

(opens in a new tab)

compliant.
All University Housing housekeeping cleaning products are biodegradable and green seal certified

(opens in a new tab)

.
Residents have the opportunity to participate in projects designed to reduce environmental impact.
Ample numbers of bicycle racks are located across campus for students' convenience.
The AppalCART

(opens in a new tab)

local bus system provides students with an alternative transportation option with stops convenient to the residence halls, academic buildings, and local shopping areas.
Summit Hall Solar Thermal - Summit Residence Hall hosts a commercial scale solar thermal system. This system preheats water used by the 333 students living in Summit Residence Hall.
The Living Green residential learning community

(opens in a new tab)

offers students the opportunity to continue their education on sustainable practices in a residential setting.
Student Union Solar Thermal System - (1st REI-funded project)
Yearly savings from PSU Initiatives are as follows:
Electric Lighting - $22,000
Removal of lights from vending machines - $350/machine
Installation of aerators on faucets - $450
Solar thermal panels for water heating - $14,000