Collegiate Recovery Community Grant Awards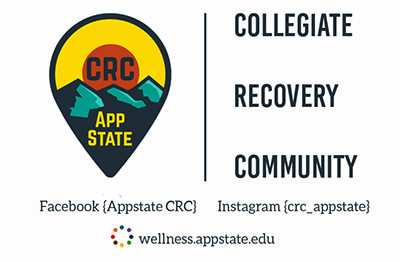 Wellness and Prevention Services has been awarded over $422,000 dollars in funding from the North Carolina Department of Health and Human Services and the UNC System in support of Appalachian State University's Collegiate Recovery Community (CRC) for the next two academic years. The CRC is focused on creating a recovery friendly campus environment and student community. The CRC provides holistic support to students in and/or seeking recovery from substance use, other maladaptive behaviors, or mental health challenges. It is a multiple pathways program, grounded in harm reduction, so the individual defines what recovery means to them. Funding supports both sustaining and expanding student resources and services, the creation of a welcoming CRC student lounge housed in Wellness and Prevention Services, access to free naloxone (an opioid overdose reversal medication) and fentanyl testing strips, and multiple student employee positions.
The CRC is excited to collaborate with our friends in Campus Activities and University Recreation to provide a variety of fun and substance free activities both on and off campus to students free of charge. We continue to partner with departments in Student Affairs and Academic Affairs to provide Recovery Ally Training, overdose prevention and response training, as well as general resource information and referral support for students. We welcome future collaborations with other programs and departments. Students can learn more and get connected with the CRC by meeting with staff and/or attending CRC sponsored events. More information can be found on the CRC website and on Engage.
If you have any questions about the CRC, please reach out to the CRC Coordinator, Jordan Kessler, at kesslerjn@appstate.edu or (828) 262-3148.