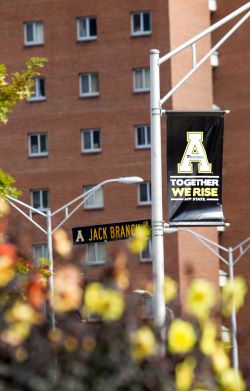 University Housing's Closing Information and End of Year Banquet
The closing of the residence halls and move out for summer is almost here! Given the current construction zones and anticipated heavy traffic that may occur on the West side of campus during peak move-out times, University Housing and University Parking and Traffic have developed a traffic management plan that will help reduce traffic congestion that may occur on this side of campus. This will affect the Stadium area of campus, which consists of Belk, Bowie, Coltrane, Eggers, Frank, Gardner, Newland, Raven Rocks, and Thunder Hill residence halls.
The plan will take effect on April 23 and remain in effect until May 7 at 12 noon. All traffic to the Stadium area of campus will travel up Stadium Drive to Jack Branch Drive from Rivers Street. Jack Branch Drive will be reserved for one-way traffic only. Most vehicles will be exiting the Stadium area by travelling the brick path toward the Schaefer Center. Please watch for traffic and reduced parking in areas near these residence halls, as students and families will be loading vehicles for move out.
In other news, our University Housing student staff was celebrated during their end-of-year recognition ceremony, which was streamed live on Tuesday, April 27, at 6 PM. The theme for this year's banquet was "A Night at the Movies". University Housing recognized our Desk Assistant (DA), Night Assistant (NA), Resident Assistant (RA) and Graduate Assistant (GA) of the Year, as well as Hall Staff of the Year. There were also awards for Crisis Manager of the Year, Community Builder of the Year, the Leigh Lane Edwards Service Award (given to an RA), and the Rising Star Award. The ceremony also included recognition of our Night Assistant Supervisors, our Student Housekeepers, and our graduating staff members.