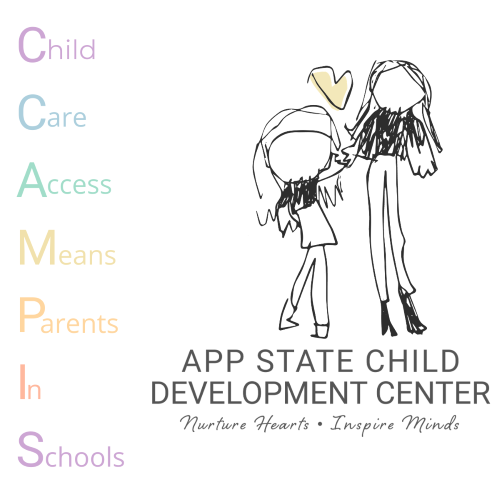 Supporting student parents with high quality child care access with the CCAMPIS grant
The App State Child Development Center is reaffirming its commitment to student parents through the Child Care Access Means Parents in School (CCAMPIS) grant. The CCAMPIS grant is a federally funded program which is designed to meet the child care needs of college and university student parents. The Department of Education offers the competitive grant to help high education institutions in offering child care services to low income student parents.
The goals of the CCAMPIS grant are to give student parents access to affordable and high quality early care for their young children, to have parenting support, and to attain a degree. The App State Child Development Center was initially awarded $185,092 for the 2019-2020 academic year. An additional $555,276 was granted for the academic years spanning 2020-2023. Grant money will begin to provide child care subsidy money for low-income student parents with children enrolled at the App State CDC late fall of 2020. Student parents who are interested in enrolling should begin the enrollment process here.
The grant also provides for a part time Family Services Coordinator (FCS) who provides individual and group support. The FSC is trained in a home visiting program and meets regularly with student parents to address the student's needs and concerns. There are also parenting workshops held a couple evenings each semester where dinner and childcare are provided. Topics are chosen based on input from student parents. Extended child care times are offered for the children of student parents during midterm and finals so student parents can have more time to focus on their academics.
In an effort to sustain and enhance the high quality of care and education at the App State CDC, the grant is supporting a curriculum enhancement project with curriculum mentors from the Lucy Brock Child Development Lab. This collaboration is professionally beneficial to both programs and an opportunity for campus departments to share expertise with one another.