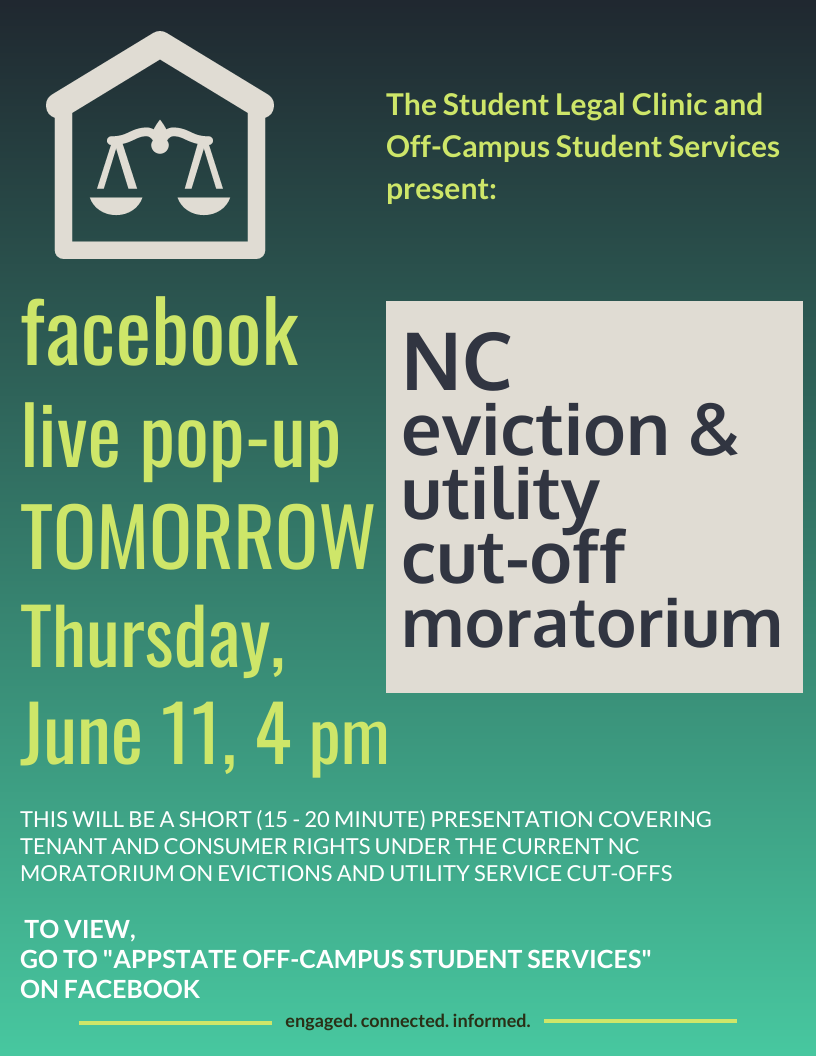 Educating Students about Legal Issues during the COVID-19 Pandemic
On May 30, 2020, Governor Cooper issued Executive Order 142 in response to the COVID-19 pandemic; this Order contains important rights and protections for tenants and consumers. The Order put in place an eviction moratorium and extended the utility cut-off moratorium that had been issued earlier in the spring. What this means is that all evictions (called "summary ejectments") in the court system are barred until June 20, 2020, and all utility shutoffs (covering electric, natural gas, sewer and water services) are barred until July 29, 2020. What's significant about both moratoria is that they provide a six month period – beginning after the expiration of the moratorium -- for tenants/ consumers to catch up on any past due payments. So, although the eviction moratorium has ended, tenants should still be protected from negative legal action for another six months if they enter payment plans. In addition, during the moratoria and the six month repayment period, no late fees, interest, or other charges can be added to the amount due. While the underlying payments must still be made, these provisions provide a path for tenants/ consumers to work out reasonable payment plans and, hopefully, avoid legal action or negative impact on credit.
To reach students with this information, the Student Legal Clinic and Off-Campus Student Services created a short Zoom presentation, which was streamed to Facebook Live. The Facebook Live was held at 4 p.m. on June 11 and has, to date, received 475 views. You can check out the 22 minute presentation on the Appstate Off-Campus Student Services Facebook page. Our next presentation (planned for some time in July, to be repeated during the fall semester) will be on debt collection and credit reports, another topic that we anticipate will be relevant as students and their families continue to navigate the financial impacts of the COVID-19 pandemic. Please refer students with legal questions to the Student Legal Clinic for free, confidential advice, information, and referrals!