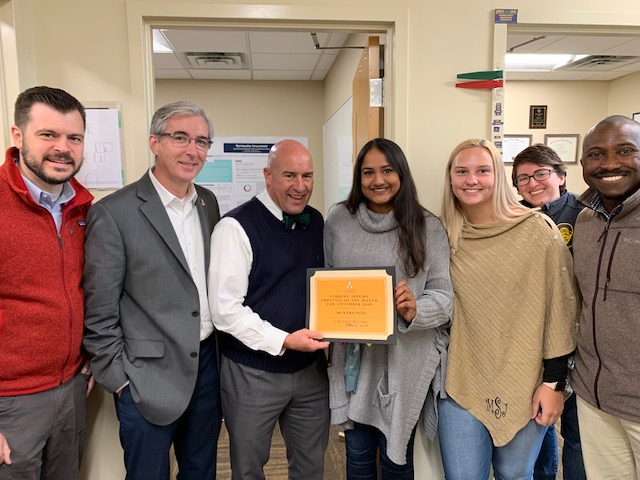 September Employee of the Month
Kyra Patel currently serves as the Coordinator for Student Social Wellness in the Department of Wellness & Prevention Services. She has been in this position since for almost 2 years.
Her nominator stated "Kyra generously gives her time and talents to serve our students and to make our campus a more inclusive, healthy and welcoming environment. This nomination is for many reasons which also include the many late nights and early mornings that Kyra enthusiastically showed up to make Health, Wellness and Safety week a success. Health, Wellness and Safety Week was a multidepartment event that had many movable pieces. Kyra was involved significantly in all of the events that took place on our campus. She was responsible for the Glow Run, Sustained Dialogue, and the Health and Safety Festival. She volunteered her time and talents at the 30th annual Walk for Awareness, the Town Hall Meeting, House Calls and our Divisional Tailgate. Her ability to mobilize multiple units within our division and her ability to create partnerships within our community brought new energy into this year's events. Her CARE and attention to detail, her ENGAGEMENT with students, staff and our community to make the events possible and meaningful, and the culmination of all that she did resulted in a series of events that TRANSFORMED our community."
Kyra we so appreciate you and your dedication to our students and campus. Congratulations on being September's Employee of the Month!