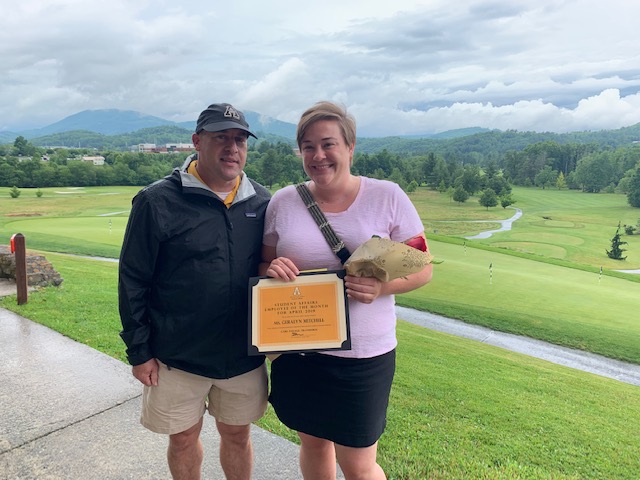 April Student Affairs Employee of the Month - Ms. Geralyn Mitchell
Geralyn currently serves as the Assistant Director and Career Counselor for the College of Fine and Applied Arts along with the Hayes School of Music in the Career Development Center. Geralyn has been with the University for 5 years.
Her nominator stated "On April 4, Appalachian hosted our first Talent Jam and Geralyn took lead on this initiative. Talent Jam was a community pitch event where individuals had 60 seconds to showcase their talents that would be of interest to employers and employers had 60 seconds to pitch their talent needs. The program was coordinated and planned with community partners - Boone and Blowing Rock chambers, Watauga Economic Development Commission and Silicon Hollar.
She scheduled monthly planning meetings, prepared materials for those who were pitching and also coached some of them. That collaborate embodies engage. Care - this concept was design to reach students and recent alumni for whom a traditional Job Fair is intimidating or not in a setting that feels welcome. Talent Jam was at Ransom and as such allowed more natural conversation.
I had several conversations with students about their career ideas and plans that I would have unlikely had at Holmes Center at the Internship and Job Fair. Finally transform - this was a new an innovative program. Geralyn tracked down leads for pitchers and was able to get a wide variety of folks to come - from a first year student on the soccer team who wants to provide private coaching to the CFO of Maymead needing to hire for a controller. That was transformative to bring all these pieces under one roof.
The other part was watching the students who did pitch get on stage with minimal prep and speak confidently about their talents including one student who is a member of our SDAP community who pitched her musical performance talents. Geralyn took lead to create a new exciting and super engaging program that blended community and university and engaged the students/alumni who participated (estimate 50-70 of the total 170-200) with leaders and business owners in Watauga County.
Geralyn we appreciate you and congratulate you on being April's Employee of the Month.