How About Homecoming 2023?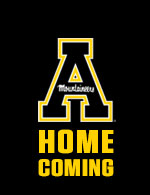 Homecoming Week was packed to the brim with competitions, events, and week-long celebrations! Here's a quick recap of the student events.
Clubs and organizations spent weeks tracing, drawing, painting, sewing, and presenting phenomenal banners to decorate Plemmons Student Union for Homecoming Week. The amount of creativity from these groups and their ability to interweave this year's theme, "The Nightmare Before Appmas'', and AppState Homecoming made it difficult to select the winners.
Students participated in fun events throughout Homecoming week. Over 400 students participated in the NEERly Naked Mile and Homecoming Kick-off. It was standing room only at Culture, Not Costume where Dr. Walden Cole facilitated conversations around cultural appropriation. For the first time ever, nearly 300 students danced the night away at the Monster Mash Silent Disco in Grandview Ballroom. Students enjoyed watching "The Nightmare Before Christmas'' at Appalachian Theatre and in the Student Commons of the Hickory Campus. LipSync packed the Schaefer Center. And of course, the week culminated with the Homecoming Parade, Apptoberfest, and the football game, of course.
The 2023 Grand Marshals for the Homecoming Parade were Nancy and Neil Schaffel. Nancy and Neil are longtime high country summer residents and generous supporters of Appalachian State University. Nancy and Neil lead the Homecoming parade along the new route, down River Street and up Stadium to Blue Ridge Parking District for Apptoberfest.
A familiar humming filled the air after the parade to kick off Apptoberfest! Groups gathered in the Apptoberfest parking lot to compete in the Kazoo Band competition. As goofy as the tradition is, our clubs and organizations brought enthusiasm for their 1-minute song! The Math Club, SGA, and Alpha Phi & Phi Kappa Tau won first place in their respective categories!
On Saturday, Mountaineers were tailgating all across campus waiting for the big game. At the half, the Marching Mountaineers took the field before the Homecoming Club Awards and Homecoming Court were presented. The overall Homecoming champions are the Appalachian Student Ambassadors, Appalachian Educators, Summit Hall, and Alpha Phi & Phi Kappa Tau.
Homecoming Court consisted of eight phenomenal students; Aleia Reed from Ambassadors, Audrey Guyler from Women in STEM, Bella Carpenter from Delta Zeta, Carmen Concepcion from Alpha Phi, Juliana Grant from Sigma Kappa, JaVan Siddle from SGA, Rose Dorofi from Kappa Delta, and Sophie Sczerbinski from Alpha Delta Pi. After a week of student-body voting, Chancellor Everts crowned Juliana Grant Top of the Rock.