Student Employee of the Year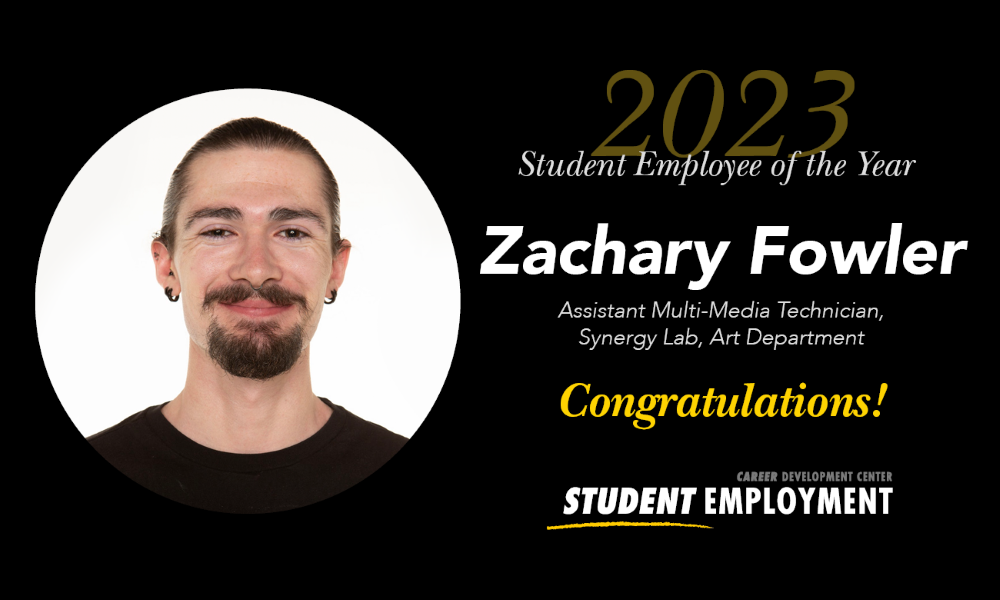 On behalf of the Career Development Center, we are grateful to all of you who took the time to submit an outstanding individual for Student Employee of the Year. This year, 17 wonderful student employees were nominated across campus, representing the Divisions of Student Affairs and Academic Affairs, the Chief Diversity Office, University Communications, the Turchin Center, and University Catering. The following students are recognized for outstanding service to the University and will receive a scholarship as part of the award.
Zachary Fowler, Assistant Multi-Media Technician from the Art Department's Synergy Lab, has been selected as the 2023 Student Employee of the Year. Zachary has demonstrated outstanding dedication and professionalism through their work and service to their fellow Art students. Multi-Media Technician, Leigh Ann Parrish, explained that the 3D printing services provided in the Synergy lab were offered much sooner than expected because of Zachary's initiative to enroll in a Fabrication and 3D Printing course last semester. Zachary goes-above-and-beyond to ensure students' products are reviewed and handled with the utmost care and attention. They're a major asset to the team by educating new student clients on the lab's services, training new student employees, and taking on the largest projects in their queue. Zachary has invested so much of themselves in providing this service to their fellow Art students and will leave a lasting legacy on the Synergy Lab.
We have also selected two Honorable Mention Awards: Daisy Lavariega Zarate from Catering and Jay Ward from Wellness & Prevention Services. Thanks to a generous donor, these students will also receive a scholarship for the 2023-24 academic year.
If you see these students at their work location, please make an effort to congratulate them. To those who nominated an outstanding student employee, we thank you.
-Student Employment Team