Career Development Center's Student Employee Appreciation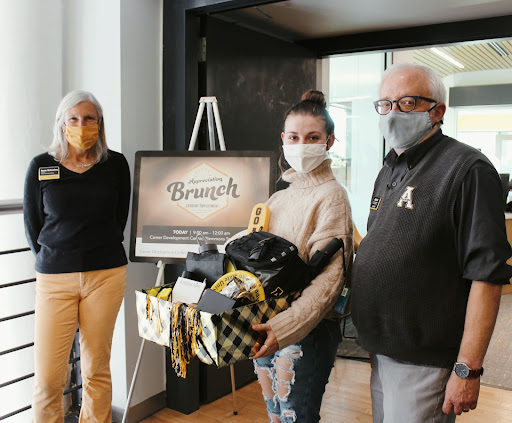 During the season of thanksgiving, the Career Development Center is proud to recognize the hard work and dedication of our approximately 4,000 student employees. Together they contribute to an average of 25,000 hours of work effort per week to the university. Their tremendous impact on campus is an integral piece in helping Appalachian thrive.
On November 17th, the Career Development Center hosted our annual Student Employment Appreciation Brunch, honoring our students' commitment to working on campus. Together with one of our employer partners, Lowes Foods, and with the generous donation of drinks from App Catering, students were treated to a free brunch and lots of cool giveaways. This year's event was hosted in our new space in the Plemmons Student Union, which allowed students an opportunity to explore the Center, learn more about our programming, and reflect on the skills they have developed in their jobs. Faculty and staff supervisors from across campus showed up to volunteer and thank students in person, and there was even live music provided by WASU, our on-campus radio station. It was amazing to be back in person, and the energy of the more than 200 students who attended was just what was needed as the semester winds down.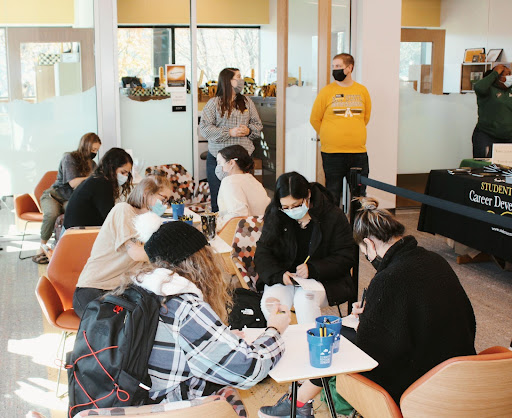 During Spring 2022, the need for student employees is greater than ever. The effects of the pandemic over the last two years has created a drastic decline in university operations due to the decrease in the number of student employees. As of now, there are a wide variety of on-campus jobs available to students across many sectors and skills sets. The benefits of working on campus are many, including flexible hours and supervisors who will work with students' class schedules. Our largest campus employers continue to be Campus Dining, Holmes Convocation Center, University Recreation, Plemmons Student Union, the Belk Library and Information Commons, University Housing, and Advancement Services Call Center. However, there are literally hundreds of jobs posted across almost every department on campus. Students are highly encouraged to utilize Handshake (the University's official career management platform) to find and apply for jobs. Based on students' financial need and cost of attendance, they may also be eligible to participate in the Federal Work Study program, wherein their semi-monthly paycheck for an on-campus job is paid through a combination of departmental and work-study funds.
When applying to on-campus jobs, students need to have access to the original documentation required by the Department of Homeland Security for I-9 e-verification.
Students looking for work this spring should consider an on-campus job. They will learn valuable career readiness skills that will support their growth and development well into the future.