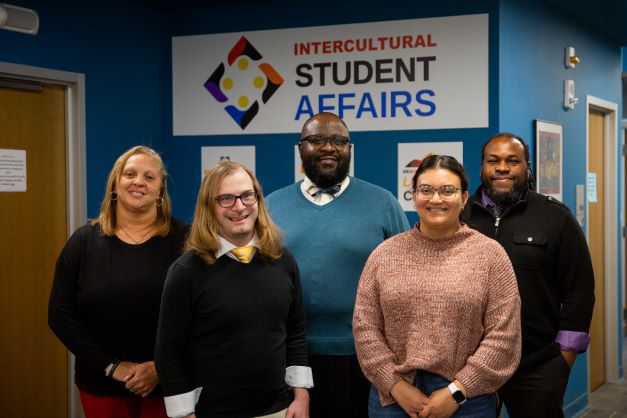 Staffing Updates
It is a pleasure to introduce the FULL staff of the Office of Intercultural Student Affairs here at Appalachian State! It has been a long time coming but finally they are here and in place to serve our students!
Dr. Lamont Sellers, Director
Dr. Will Sheppard, Associate Director
Cody Michael Henderson, Assistant Director
Jainny Estrada, Coordinator
Anitra Ball, University Program Associate/Office Manager
Feel free to stop by Suite 255 in the Plemmons Student Union and say hi!
More New Employees in Student Affairs
Career Development Center
Michael Rybak (he/they), Career Development Coordinator has ventured to the mountainous Boone, NC, to join the Career Development Center team. He will be assisting students across the institutional landscape with their major and career exploration endeavors and empowering them to work towards their versions of holistic success. Originally from Stuart, FL, Michael graduated from Florida Gulf Coast University (FGCU) with a Bachelor of Arts degree in Communication and a minor in Theatre. In his time at FGCU, Michael developed a deep passion for serving students and building lasting relationships. Michael completed his Master of Education degree in College Student Personnel Administration from James Madison University (JMU) in Harrisonburg, VA. Michael's past experiences have equipped him with a critical, counseling-based lens for providing career development services to all students. In his spare time, Michael enjoys visiting local coffee shops, spending time with family and friends, and spontaneously traveling to places he has never ventured before.
Case Management
Jimmy Kramer joined the Office of the Dean of Students Case Management team in July 2021. He has been actively engaged with our students assisting them as they navigate campus life. Jimmy previously worked with Case Management as a COVID Response and Support case manager before joining the team full-time as a residential specialist. Jimmy also previously served as a Coordinator with residence life here at Appalachian and is no stranger in our community. Please join me in applauding Jimmy on all his contributions in supporting and caring for our students. He has swiftly transitioned into his new(ish) role and we are so honored to have him as part of our team.