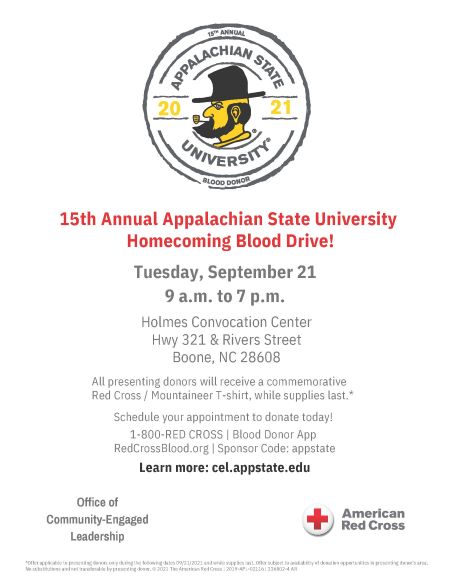 15th Annual Homecoming Blood Drive
Community-Engaged Leadership would like to extend an invitation for you to submit Google Slides advertising your department's services, events, or any student organizations with whom you work. These will be included in a slideshow that will run on the jumbotron during the Homecoming Blood Drive, which will take place on September 21, from 9am-7pm at the Holmes Convocation Center.
Please submit your Google Slide(s) to: blooddrive@appstate.edu. Please format the slide(s) exactly how you would like it to appear on the screen and ensure that you grant viewing or editing access to your slide. We request all slides to be submitted by 5pm on September 16th (or earlier!).
If you would like to donate blood at the Homecoming Blood Drive, schedule your appointment today using sponsor code "AppState." All donors will receive a commemorative T-Shirt! Please review Red Cross donor safety protocols and check your eligibility to donate. Attached, please find a flyer you may feel free to share with your colleagues, students and friends.