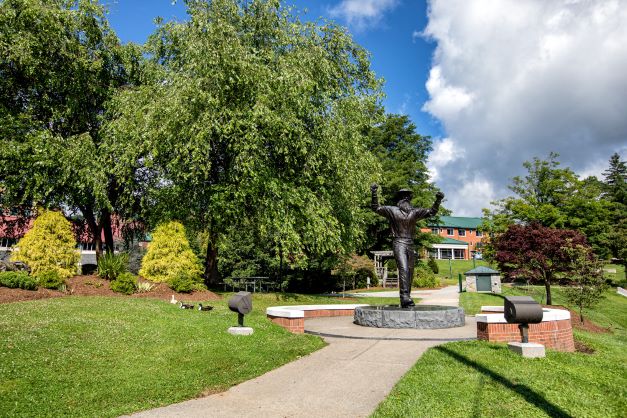 New Hires in Student Affairs
Each year we take the time to introduce new hires within the Division. If you see any of these newbies on campus or virtually, be sure to welcome them to campus!

Campus Activities
Shaleeah Smith (she/her/hers), Associate Director of Campus Activities, Fraternity & Sorority Life: Shaleeah came to Appalachian from Bucknell University, where she served as the Assistant Director of Fraternity and Sorority Affairs. Previously, she was a Greek Life Coordinator at McNeese State University in Lake Charles, LA, and an Admissions Counselor at Lycoming College in Williamsport, PA. Shaleeah holds a MA in Educational Leadership in Higher Education from the University of Nevada, Reno, and is pursuing a Doctor of Education in Higher Education Administration through the University of Southern Mississippi.
Jesse Vinson (he/they), Coordinator of Campus Activities, Student Programming: Jesse returned to Appalachian having served as the Coordinator for Student Organization Development at the University of Kansas. Prior to his time at KU, he was a Summer Graduate Coordinator at UNC-Chapel Hill and served as a Graduate Assistant here at App in both Campus Activities and Leadership Development. Jesse holds a Master of Arts in Student Affairs Administration and a Bachelor of Science in Recreation Management from Appalachian State University.
Community-Engaged Leadership
Dr. Joshua Kurz (he/him); Assistant Director of Leadership Education & Development: Josh oversees the Trailhead Experience, Plemmons Leadership Scholars, and Leadership in Action residential learning community. Prior to joining App State in 2021, Josh taught Global Studies and Sociology at the National University of Singapore. Before pursuing a PhD, Josh worked in student affairs in a variety of roles, including two years as the Graduate Program Assistant at the Miami University Women's Center in Oxford, Ohio. Josh is passionate about working with and developing students' leadership capabilities, building community, and acting as an ally to marginalized students. In his free time he enjoys hiking, mountain biking, and photography. Josh received a Ph.D. in Comparative Studies from The Ohio State University and a M.S. in College Student Personnel from Miami University
Carly May (she/her); Assistant Director of Community Engagement: Carly believes that mutually beneficial relationships with community partners allows for students to create positive local change, while expanding their knowledge of global social issues and leadership skills. Carly earned her Bachelor of Arts in Psychology and Human Development from University of Connecticut, and a Masters in Higher Education Student Affairs from Baylor University. Carly is looking forward to working with CEL programs and local nonprofits to serve the Boone community.
Office of the Dean of Students
Monica Barlow is the new Program Director for Parent and Family Services. Monica's responsibilities will include but are not limited to leading Parent and Family Orientation, Family Weekend, and organizing our exciting Parent and Family monthly newsletter. Before starting in the ODOS, Monica worked for University Advancement. While transitioning into the position, Monica will be completing her Master's degree from Appalachian State in Higher Education. She has worked with fundraising at a non-profit in Charlotte and was actively involved with Wingate University's Dean of Students Office.
Plemmons Student Union
Ashley Holland (she/her/hers), Assistant Director for the Plemmons Student Union: Ashley Holland is so excited to be back at App! She received her master's in College Student Development in 2016 from App and has since been at the University of Virginia where she worked in a variety of functional areas. She started back at App on July 1 and has enjoyed getting to know the student employees as well as the team of incredible professionals in the Union. When Ashley is not at work, she enjoys hiking and spending time with her partner, Russell. She's a big animal lover, enjoys traveling, and spending time at wineries and breweries.
Will Jones (he/they/their), Event Services Manager for the Plemmons Student Union: Will is a former librarian for the City of Greensboro. They received their undergraduate degree at UNC School of the Arts in Film Production, and graduate degree in Library and Information Studies at UNC Greensboro. They are currently writing a fiction novel and is an avid collector with many interests, including films, books, music, and retro gaming.
Student Health Services
Nancy Patz, Physician Assistant: Nancy joins us from UNCW Student Health. Nancy is proud to have a son enrolled in AppState as a sophomore.
Tanya Shook, Nurse Practitioner: Tanya accepted a full-time position after serving in a temporary role for over a year. Tanya comes to us from North Carolina State University and was in their Student Health department prior to joining us.
University Housing
Tabitha Alliss joined the department in May as the UH Front Desk Supervisor and recently transitioned into the Assignments Coordinator position in August.
Housekeepers
Eve Love (January)
Marissa Hamrick (May)
Erika Mccrimmon (May)
William Robinson (May)
James Love (August)
Sandy Stines (August)
Melissa Woodring (August)
Samara Humphrey (August)
Housekeeping Assistant Supervisors
David Eggers (May)-transitioned from Housekeeper position
Faustin Foster (August)-transitioned from Housekeeper position
Housekeeping Supervisor for West Campus - Annette Childers (January): transitioned from the Assistant Supervisor position
Maintenance
Rick Carignan (August) - external hire
Jason Beach (July) - transitioned over from University Recreation
Troy McNeil (June) - transitioned from Support Services
Thomas South (February) - external hire
Maintenance Supervisor for Plumbing and Electrical
Todd Dixon (January) - transitioned from maintenance mechanic position
Support Services
Matt Benfield (September) - transitioned over from Environmental Services
Matt Love (August) - transitioned from regular into supervisor position
Dom Cruz (July), West Service Desk Supervisor - external hire
Katy Willis (July), East Service Desk Supervisor - external hire
Bri Corsi (June), Administrative Support Specialist for Residence Life: transitioned into this position from the West Service Desk Supervisor position.