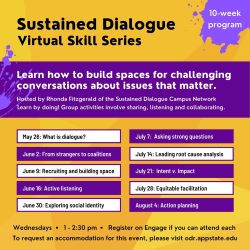 Sustained Dialogue Summer Skill Series

The next opportunity for Sustained Dialogue is a 10 week virtual skill series that will begin on Wednesday, May 26th. If you've been around a minute you may remember the Inclusive Leadership Retreat put on by Sustained Dialogue in the past. This is the same content repurposed for COVID times to be a 10 week virtual program, open to faculty, staff and students. If you complete all 10 sessions, you'll be certified as a Sustained Dialogue moderator and have the option to moderate dialogue circles in the future if you wish. It will also give you lots of great tips and tricks for tough dialogue, so I highly recommend it. I hope you'll strongly consider participating yourself, as this is some great (free!) professional development, and please send it out far and wide to your students.

Do you want to build spaces to have challenging conversations about issues that matter? Would you like to be a creator of meetings where talking about big issues is celebrated? If so, this Sustained Dialogue open workshop series is for you!
Previously known as the Inclusive Leadership Retreat, this 10 session virtual series, facilitated by Rhonda Fitzgerald of the Sustained Dialogue Campus Network, will meet virtually each Wednesday from 1:00 pm - 2:30m EST from May 26, 2020 to August 4, 2020 (with the exception of an "off week" on June 23rd).
Click here to sign upon Engage. Each session is mandatory to complete the skills series. Space is limited to 40 participants, so please sign up only if you can make the session each time.