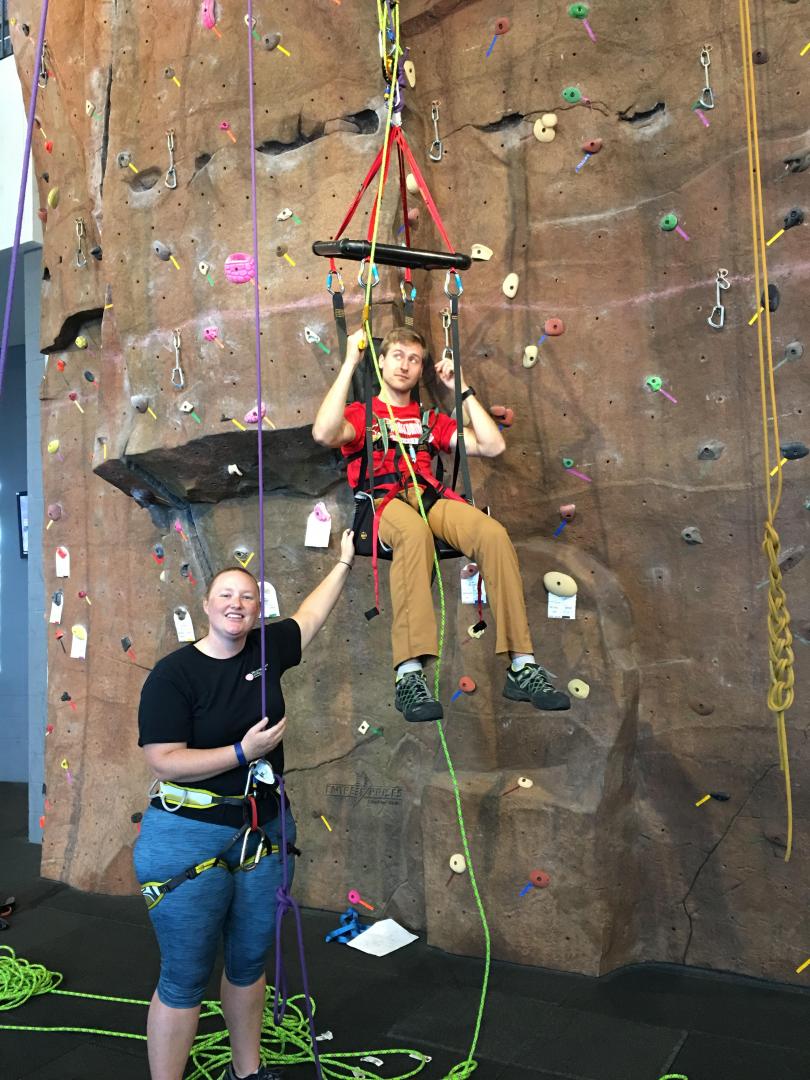 Inclusive Recreation-Why-What-How
University Recreation is actively working to create an environment where people feel a sense of belonging while offering recreational opportunities during a global pandemic to be sustained in the aftermath. We are also being creative in providing physical activity during this time which looks a little different than pre-pandemic. Heightening the level of awareness about the people we serve is a welcome opportunity during this pivotal time in the current world.
Being dedicated to the Appalachian State University community has supported the initiative of educating ourselves through intentional department equity, diversity, and inclusion meetings. Throughout this process, our professional staff read, reflect, and have dialogue surrounding the learning.
Through the dialogue, we are identifying our privileges and exploring what that means to our work within University Recreation. Because of this, University Recreation is finding ways to take action to connect, design, and invite people to the experiences we are facilitating. We do know this is not an easy path, nor without trial and error, but a path we must pursue to be able to serve all of our students.
As a team, UREC has made progress and looks forward to more opportunities. Through months of work, we are excited to share what we have been able to accomplish:
Updating the mission and vision statements, and values:

Mission: Facilitate an inclusive environment where recreation and wellness opportunities transform, engage, and care for the App State community to enhance student learning and development.
Vision: An equitable UREC community with opportunities for everyone with everyone.
Values

WELLBEING: We empower the holistic physical, emotional, and social wellbeing of the App State community.
EQUITY, DIVERSITY & INCLUSION: We design opportunities for everyone to engage and thrive.
SUSTAINABILITY: We advocate to champion sound social, environmental, and economic practices.
TRANSFORM: We transform, educate, and inspire through innovative experiential learning and leadership community experiences.
CARE: We create a culture of care that supports individuals' self-discovery of their cultural identity.
ONE App State: We are team players. We nurture collaboration partnerships to pursue excellence in the student experience.

Establishing an Equity, Diversity, and Inclusion Committee within the department
Connect - Invite - Design Approach

Our new invitation to people for experiencing University Recreation is intentional. It starts with connecting with people to learn more about them to meet them where they are to be able to support them to getting to where they want to go.
Communications is the means by which we connect with people with the goal of creating an environment where people feel safe and a sense of belonging. We are placing the value on the different ways to connect with the person before providing the recreational experience.

Exploring ways to do monthly celebrations of people

March: Celebrating Women

Guest Speaker to Staff Meeting: Mikini Thompson
Social Media
Webpage

Physical Space:

Identifying single restrooms as gender-inclusive

Changing signage on restrooms
Receiving additional education on how to communicate this opportunity

Reconfiguring of the entrance at the front desk of the Student Recreation Center

Preview of a few in-progress initiatives:

Adaptive Climbing Program
Launching a new webpage - Mountaineers Belong to share UREC plans and initiatives to help us to stay accountable
Though we are celebrating our work done, we also recognize there is more work to be done. We are excited to connect with others in our division and students across campus to be able to design opportunities that would invite people to engage with our programs and services. We look forward to working with you!